WorshipKeys and nanoKONTROL2
You can see from the graphic below how WorshipKeys was designed to integrate seamlessly with the nanoKONTROL2 controller. Other than the keyboard, pedal, and mod wheels, every single function in WorshipKeys can be controlled from nanoKONTROL2.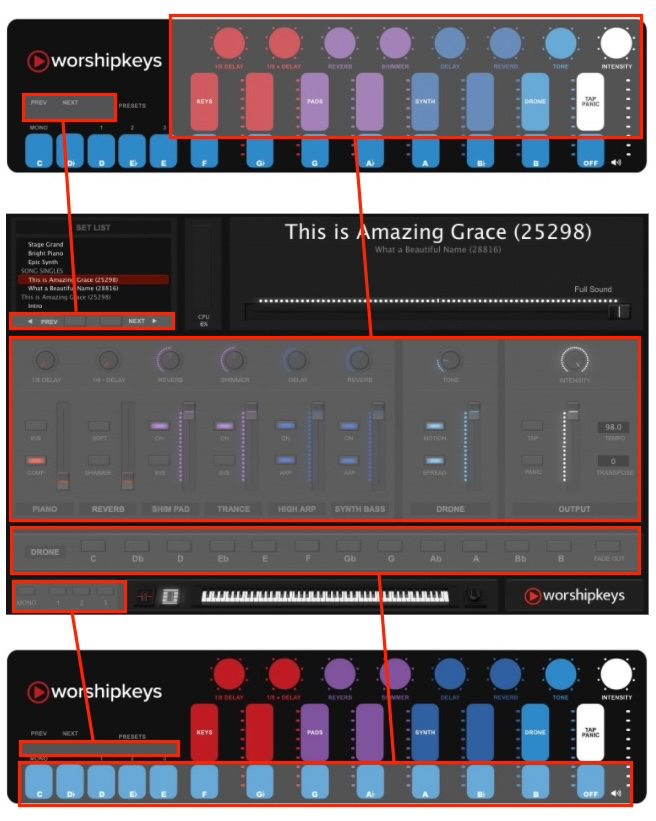 Configuring Your nanoKONTROL2
To configure the nanoKONTROL2 hardware, you will need to install a free editor on your computer. First, download the KORG USB-MIDI Driver. Then, download and install the KORG KONTROL Editor. To load up the preset, open the Editor and select your device. Then, select FILE > OPEN and navigate to ~/music/mainstage/worshipkeys to find the preset file called worshipkeys_nano.nktrl2_data. Now, when you connect your midi controller to MainStage, it will fully integrate with the WorshipKeys concert.