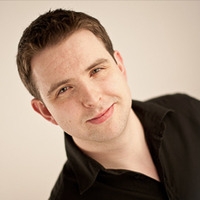 About
For the past ten years, Paul Campbell has been providing the touring orchestrations and managing the sheet music library of Keith and Kristyn Getty. His most recent orchestration of the song "Holy Spirit, Living Breath of God" is featured on their 2012 album - Hymns for the Christian Life.
Belfast-born son of a preacher, Paul has been working as an arranger-orchestrator since graduating from the Royal College of Music in London in 2005. "Diversity is part of the joy of the job" says Paul, who has written several arrangements for Sir James Galway, the BBC Proms, the London Symphony Orchestra and every other major symphony orchestra in the UK and Ireland.
No stranger to Royal events in the UK, Paul's work has been performed in Buckingham Palace, Hampton Court Palace and Windsor Castle, including a number of orchestrations specially written for the 60th Birthday Celebrations of HRH Prince Charles. His now longstanding friendship with light music conductor John Wilson has led to some interesting work, reconstructing famous film musical scores from the library of MGM, Warner Brothers, 20th Century Fox and many others, including complete reconstructions of Singin' in the Rain and My Fair Lady.
Since September 2009, Paul and his wife and vocalist Susie have been joint directors of Music Ministry at Knock Presbyterian Church in Belfast, Northern Ireland. He and Susie are delighted to have welcomed their first baby daughter, Bethany Joy, into their family in July 2010. Bethany has given Paul an extra excuse to develop his keen interest in photography!