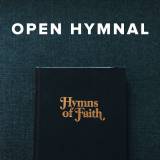 Wilt Thou O Man Live Happily Chords PDF (Traditional Hymn)
Wilt Thou O Man Live Happily Chords PDF (Traditional Hymn)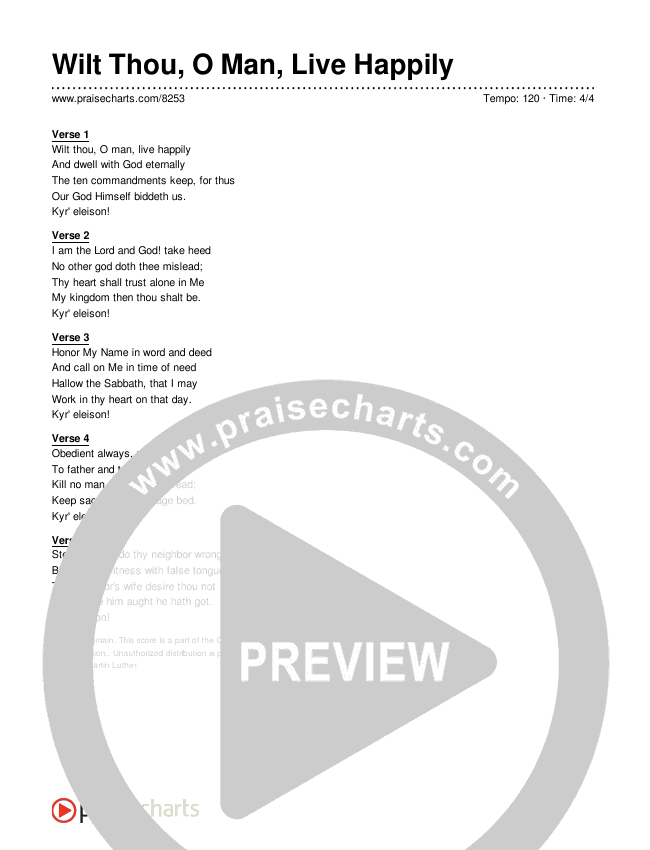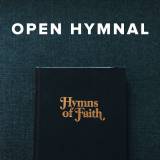 Wilt Thou O Man Live Happily
Traditional Hymn
Lyrics Details
Download the PDF Chord Charts for Wilt Thou O Man Live Happily by Traditional Hymn, from the album Open Hymnal.
| | |
| --- | --- |
| SongID | 8253 |
| Language | English |
| Album | Open Hymnal |
| Artists | Traditional Hymn |
| Authors | Martin Luther |
| Instruments | Guitar, Ukelele, Piano |
| File Type | PDF |
| Pages | |
| Available Keys | A, Ab, B, Bb, C, C#, D, Db, E, Eb, F, F#, G, G#, Gb, Numbers, Numerals |
| Theme | God, Hymn, Lord, Obedience, Traditional, Trust, Happiness, Sabbath, Commandment, Name of Jesus |
Lyrics
Verse 1 Wilt thou, O man, live happily, and dwell with God eternally, The ten commandments keep, for thus our God Himself biddeth us. Kyr' eleison! Verse 2 I am the Lord and God! take heed no other god doth thee mislead; Thy heart shall trust alone in Me, My kingdom then thou shalt be. Kyr' eleison! Verse 3 Honor My Name in word and deed, and call on Me in time of need, Hallow the Sabbath, that I may work in thy heart on that day. Kyr' eleison! Verse 4 Obedient always, next to Me, to father and to mother be; Kill no man, even anger dread; keep sacred thy marriage bed. Kyr' eleison! Verse 5 Steal not, nor do thy neighbor wrong by bearing witness with false tongue; Thy neighbor's wife desire thou not, nor grudge him aught he hath got. Kyr' eleison!...
© Public Domain. This score is a part of the Open Hymnal Project, 2009 Revision.