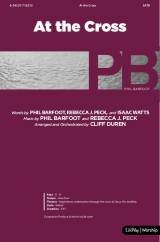 At The Cross (Choral Anthem SATB) Orchestration (Lifeway Choral / Arr. Cliff Duren)
At The Cross (Choral Anthem SATB) Orchestration (Lifeway Choral / Arr. Cliff Duren)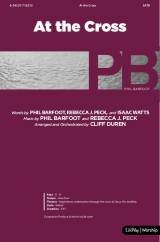 At The Cross (Choral Anthem SATB)
Lifeway Choral / Arr. Cliff Duren
Orchestration (No Vocals) Details
Download the Orchestration for At The Cross (Choral Anthem SATB) by Lifeway Choral / Arr. Cliff Duren, from the album Non-Seasonal Choral Anthems. This song was arranged by Cliff Duren in the key of G.
| | |
| --- | --- |
| SongID | 81125 |
| Language | English |
| Album | Non-Seasonal Choral Anthems |
| Artists | Lifeway Choral, Arr. Cliff Duren |
| Authors | Isaac Watts, Rebecca J. Peck, Phil Barfoot |
| Arrangers | Cliff Duren |
| Publishers | Music Services, Thomas Peck Music |
| CCLI Song No. | 7069840 |
| Style | Ballad |
| Instruments | Piano, Keyboard, Guitars, Drums, Trumpet, Trombone, Tuba, French Horn, Violin, Viola, Cello, Keybaord Synth, Flute/Obo, Clarinet, Alto Sax, Tenor Sax |
| File Type | PDF |
| Pages | |
| Available Keys | G |
| Meter | 4/4 |
| Genre | choral |
| Theme | Cross |
Lyrics
Verse 1 Alas and did my Savior bleed And did my Sovereign die Would He devote that sacred head For sinners such as I Was it for crimes that I had done He groaned upon the tree Amazing pity grace unknown And love beyond degree Chorus At the Cross at the Cross Where I first saw that light It was there by saving faith Blinded eyes received their sight Hallelujah the burden lifted And my soul which once was lost Found forgiveness and redemption At the Cross Verse 2 That day the Father turned away The sun in darkness hid When Christ the great redeemer died To cover all our sins But drops of grief cannot repay The debt of love I owe Here Lord I give myself away It's all that I can do Bridge Glory to His name Glory to His name There to my heart was the blood applied Glory to His name Ending There's forgiveness There's forgiveness At the cross...
© 2016 Paradise View Publishing (Admin by CCT Music), Van Ness Press (Admin by Lifeway Worshp c/o Music Services), Thomas Peck Music (Admin by Thomas Peck Msuic)
CCLI Song No. 7069840