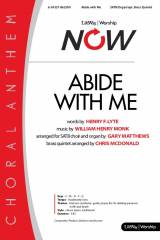 Abide With Me (Choral Anthem SATB) Orchestration (Lifeway Choral / Arr. Gary Matthews / Arr. Chris McDonald)
Abide With Me (Choral Anthem SATB) Orchestration (Lifeway Choral / Arr. Gary Matthews / Arr. Chris McDonald)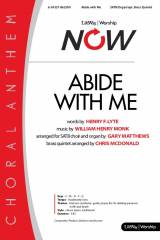 Abide With Me (Choral Anthem SATB)
Lifeway Choral / Arr. Gary Matthews / Arr. Chris McDonald
Orchestration (No Vocals) Details
Download the Orchestration for Abide With Me (Choral Anthem SATB) by Lifeway Choral / Arr. Gary Matthews / Arr. Chris McDonald, from the album Non-Seasonal Choral Anthems. This song was arranged by Gary Matthews / Chris McDonald in the key of C.
| | |
| --- | --- |
| SongID | 81122 |
| Language | English |
| Album | Non-Seasonal Choral Anthems |
| Artists | Lifeway Choral, Arr. Gary Matthews, Arr. Chris McDonald |
| Authors | Henry Francis Lyte, William Monk, Garry Matthews |
| Arrangers | Gary Matthews, Chris McDonald |
| Publishers | Music Services |
| CCLI Song No. | 7101780 |
| Instruments | Piano, Keyboard, Guitars, Drums, Trumpet, Trombone, Tuba, French Horn, Violin, Viola, Cello, Keybaord Synth, Flute/Obo, Clarinet, Alto Sax, Tenor Sax |
| File Type | PDF |
| Pages | |
| Available Keys | C |
| Meter | 4/4 |
| Genre | choral |
| Theme | Abiding, Assurance, Comfort, Courage, Devotional, Faith, Help, Petition, Prayer, Presence |
Lyrics
Verse 1 Abide with me fast falls the eventide The darkness deepens Lord with me abide When other helpers fail and comforts flee Help of the helpless O abide with me Verse 2 Swift to its close ebbs out life's little day Earth's joys grow dim its glories pass away Change and decay in all around I see O Thou who changest not abide with me Verse 3 I need Thy presence ev'ry passing hour What but Thy grace can foil the tempter's pow'r Who like Thyself my Guide and Stay can be Through cloud and sunshine O abide with me Verse 4 I fear no foe with Thee at hand to bless Ills have no weight and tears no bitterness Where is death's sting where grave thy victory I triumph still if Thou abide with me Verse 5 Hold Thou Thy cross before my closing eyes Shine through the gloom and point me to the skies Heav'n's morning breaks And earth's vain shadows flee In life in death O Lord abide with me...
© Words: Public Domain, Music: 2016 Broadman Press (Admin. by Music Services)
CCLI Song No. 7101780