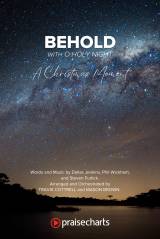 Behold (with O Holy Night) (A Christmas Moment) Chords PDF (Travis Cottrell / Orch. Mason Brown / Debbie Low)
Behold (with O Holy Night) (A Christmas Moment) Chords PDF (Travis Cottrell / Orch. Mason Brown / Debbie Low)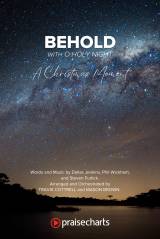 Behold (with O Holy Night) (A Christmas Moment)
Travis Cottrell / Orch. Mason Brown / Debbie Low
Chords & Lyrics (Editable) Details
Download the PDF Chord Charts for Behold (with O Holy Night) (A Christmas Moment) by Travis Cottrell / Orch. Mason Brown / Debbie Low, from the album Come Behold Emmanuel: A Christmas Worship Celebration. This song was arranged by Travis Cottrell / Mason Brown in the key of Bb.
| | |
| --- | --- |
| SongID | 81074 |
| Language | English |
| Album | Come Behold Emmanuel: A Christmas Worship Celebration |
| Artists | Travis Cottrell, Orch. Mason Brown, Debbie Low |
| Authors | Phil Wickham, Dallas Jenkins, Steven Furtick, Placide Cappeau, John Dwight, Adolphe Adam |
| Arrangers | Travis Cottrell, Mason Brown |
| Publishers | Essential Music Publishing, PraiseCharts Publishing |
| CCLI Song No. | 7204354 |
| Tempo | Fast |
| Instruments | Guitar, Ukelele, Piano |
| File Type | PDF |
| Original Key | Bb |
| Available Keys | A, Ab, B, Bb, C, C#, D, Db, E, Eb, F, F#, G, G#, Gb, Numbers, Numerals |
| Meter | 6/8 |
| Genre | choral |
| Theme | Adoration, Advent, Christmas, Glory, Incarnation, King, Love, Praise, Savior, Worthiness, Christmas Eve |
Lyrics
Narration 1 The sin-sick world needed saving And though we tried and tried We could not save ourselves But God, in His infinite wisdom, provided A way. A way not mapped out by Human hands but divinely directed to change The course of history. Through His son Jesus Salvation made its way from the Thrones of heaven to the throes of humanity. Arriving not in splendor, but in simplicity, As a baby. This was not entirely what Was expected, but it's exactly what was needed. Verse 1 Behold the King has come, divinity incarnate Creator of the world, breathing our air Behold what light has come, and the dark cannot contain it The Savior of the world is finally here Verse 2a Behold the Father's love, beyond all comprehension He gave His only Son to die in our place Narration 2 Through Jesus, all is accomplished The words of the law and the prophets Fulfilled. Salvation has come to the lost. Sight for the blind, healing for The sick, death reversed and sin defeated for good. So here And now, at Christmas, we stand in awe And worship. Not to simply sing happy Songs or exchange humble gifts but to Remember why Jesus was born. For in His birth, He set course to the cross And that cross casts an eternal light on the Narration 3 Shadows of this world. Light that makes The darkness flee, the enemy retreat And death itself reverse. We worship today because Salvation is ours. Through Christ Jesus The baby. Born to die, born to save The world and overcome the grave. Verse 2b Go and see that empty tomb, He's not there for He is risen Ev'ry heart prepare Him room, Jesus Christ the King of Heaven Chorus 1 "O Holy Night" Fall on your knees, O hear the angel voices O night divine, O night when Christ was born O night, divine, O night, O night divine Chorus 2 "Behold" Come let us adore Him, come let us adore Him For He alone is worthy, Christ the Lord Chorus 3 Come let us adore Him, come let us adore Him For He alone is worthy Christ the Lord, the Lord Christ the Lord, the Lord...
© "Behold" 2022 Phil Wickham Music, Simply Global Songs, Music by Elevation Worship Publishing (Admin by Essential Music Publishing LLC) Dallas Jenkins Publishing "O Holy Night" 2023 PraiseCharts Publishing, Inc.
CCLI Song No. 7204354