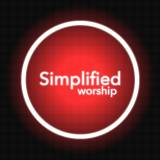 Left It In The Water (Simplified) Chords PDF (Matt Maher)
Left It In The Water (Simplified) Chords PDF (Matt Maher)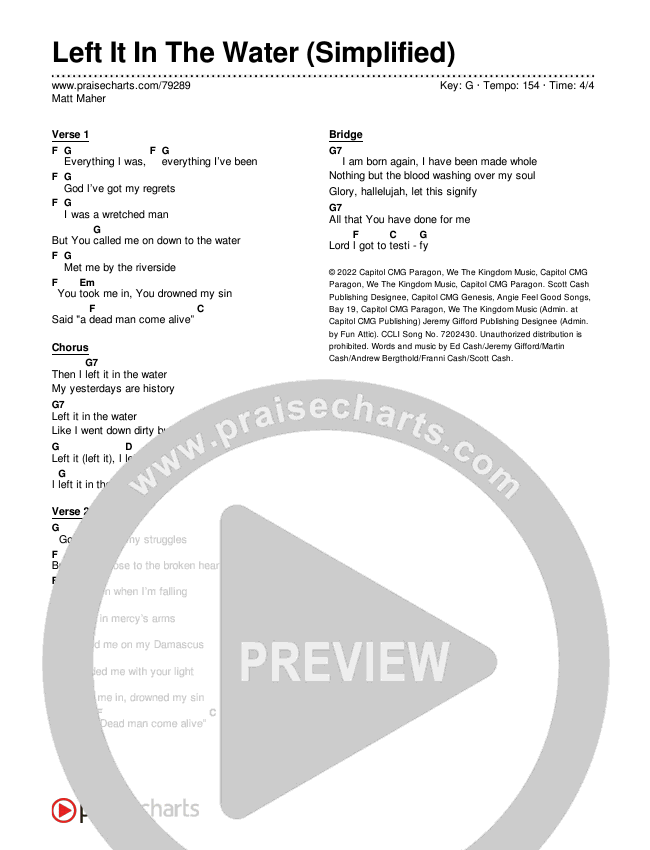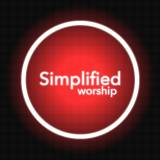 Left It In The Water (Simplified)
Matt Maher
Chord Chart Details
Download the PDF Chord Charts for Left It In The Water (Simplified) by Matt Maher, from the album Simplified Worship.
| | |
| --- | --- |
| SongID | 79289 |
| Language | English |
| Album | Simplified Worship |
| Artists | Matt Maher |
| Authors | Ed Cash, Jeremy Gifford, Martin Cash, Andrew Bergthold, Franni Cash, Scott Cash |
| Publishers | Capitol Christian Music, Fun Attic |
| CCLI Song No. | 7202430 |
| Instruments | Guitar, Ukelele, Piano |
| File Type | PDF |
| Pages | |
| Original Key | G |
| Available Keys | A, Ab, B, Bb, C, C#, D, Db, E, Eb, F, F#, G, G#, Gb, Numbers, Numerals |
| Meter | |
| Themes | Life, Freedom, Cleansing, Calling, Baptism |
Lyrics
Verse 1 Everything I was, everything I've been God I've got my regrets, I was a wretched man But You called me on down to the water, met me by the riverside You took me in, You drowned my sin said "a dead man come alive" Chorus Then I left it in the water, my yesterdays are history Left it in the water, like I went down dirty but I came up clean Left it (left it), I left it (left it), I left it in the water Verse 2 God I still got my struggles, but You're close to the broken heart Lord even when I'm falling, I'm falling in mercy's arms You found me on my Damascus and blinded me with your light You took me in, drowned my sin and said "Dead man come alive" Bridge I am born again, I have been made whole Nothing but the blood washing over my soul Glory, hallelujah, let this signify All that You have done for me, Lord I got to testify...
© 2022 Capitol CMG Paragon, We The Kingdom Music, Capitol CMG Paragon, We The Kingdom Music, Capitol CMG Paragon. Scott Cash Publishing Designee, Capitol CMG Genesis, Angie Feel Good Songs, Bay 19, Capitol CMG Paragon, We The Kingdom Music (Admin. at Capitol CMG Publishing) Jeremy Gifford Publishing Designee (Admin. by Fun Attic)
CCLI Song No. 7202430