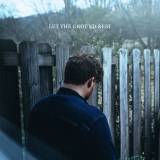 Springtime Chords PDF (Chris Renzema)
Springtime Chords PDF (Chris Renzema)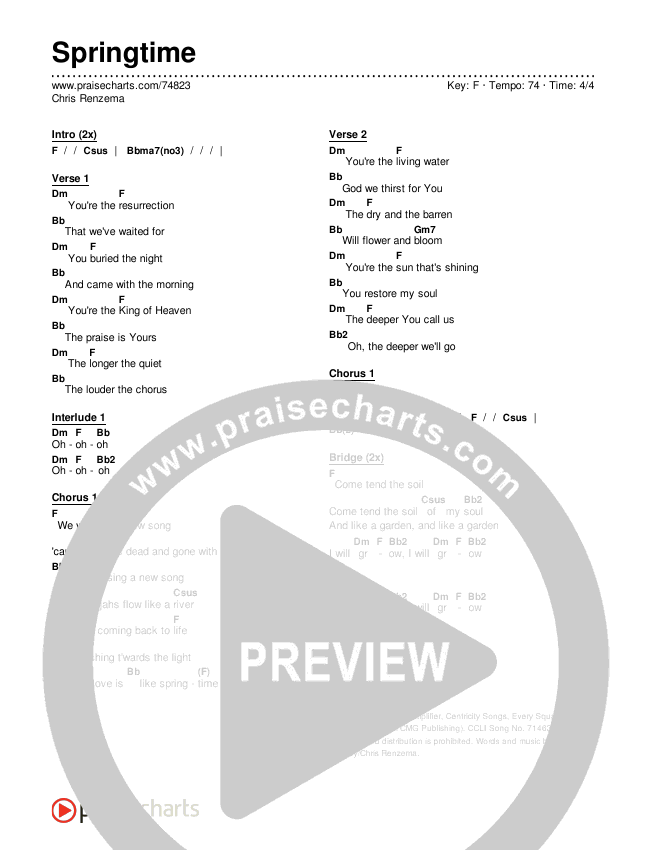 Chords & Lyrics (Editable) Details
Download the PDF Chord Charts for Springtime by Chris Renzema, from the album Let The Ground Rest. This song was arranged by Grant Wall in the key of E, F.
| | |
| --- | --- |
| SongID | 74823 |
| Language | English |
| Album | Let The Ground Rest |
| Artists | Chris Renzema |
| Authors | Hank Bentley, Chris Renzema |
| Arrangers | Grant Wall |
| Publishers | Capitol CMG, Centricity Music |
| CCLI Song No. | 7146308 |
| Tempo | Med Slow |
| Instruments | Guitar, Ukelele, Piano |
| File Type | PDF |
| Pages | |
| Original Key | F |
| Available Keys | A, Ab, B, Bb, C, C#, D, Db, E, Eb, F, F#, G, G#, Gb, Numbers, Numerals |
| Meter | 4/4 |
| Theme | Death, Easter, Love of God, Growth, Hallelujah, Heaven, King, Light, Living Water, Praise, Restoration, Resurrection, Seasons, Soul, Easter Sunday |
Lyrics
Verse 1 You're the resurrection that we've waited for You buried the night and came with the morning You're the King of Heaven, the praise is Yours The longer the quiet, the louder the chorus Interlude 1 Ohohoh Ohohoh Chorus 1 We will sing a new song 'cause death is dead and gone with the winter We will sing a new song, let hallelujahs flow like a river We're coming back to life, reaching t'wards the light Your love is like springtime Verse 2 You're the living water, God we thirst for You The dry and the barren will flower and bloom You're the sun that's shining, You restore my soul The deeper You call us, oh, the deeper we'll go Bridge Come tend the soil, come tend the soil of my soul And like a garden, and like a garden I will grow, I will grow Tag I will grow, I will grow End Like springtime...
© 2020 Capitol CMG Amplifier, Centricity Songs, Every Square Inch (Admin. by Capitol CMG Publishing)
CCLI Song No. 7146308