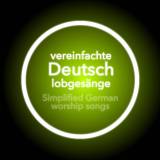 Heilig Heilig Das Lamm Gottes (Revelation Song) (Simplified) Chords PDF
Heilig Heilig Das Lamm Gottes (Revelation Song) (Simplified) Chords PDF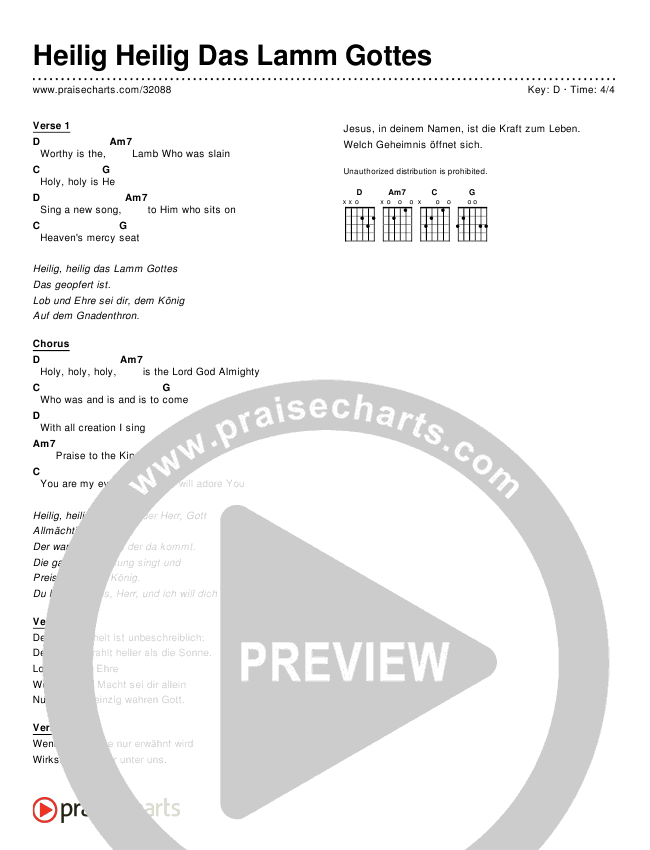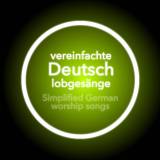 Heilig Heilig Das Lamm Gottes (Revelation Song) (Simplified)
Chord Chart Details
Download the PDF Chord Charts for Heilig Heilig Das Lamm Gottes (Revelation Song) (Simplified), from the album Vereinfachte Deutsch Lobgesänge.
| | |
| --- | --- |
| SongID | 32088 |
| Language | German |
| Album | Vereinfachte Deutsch Lobgesänge |
| Authors | Jennie Riddle |
| Publishers | Integrity Music |
| CCLI Song No. | 4447960 |
| Instruments | Guitar, Ukelele, Piano |
| File Type | PDF |
| Pages | |
| Original Key | D |
| Available Keys | A, Ab, B, Bb, C, C#, D, Db, E, Eb, F, F#, G, G#, Gb, Numbers, Numerals |
| Meter | |
| Themes | Adoration, Almighty, Awesome, Benediction, Blessing, Breath, Compassion, Creation, Glory, Heaven, Holiness, Honor, Jesus, Kingship, Lamb, Living Water, Mercy, New Song, Power, Strength, Water, Wonder, Worthiness, Rain, Mystery, Thunder, Praise, Worship, Easter |
Lyrics
Verse 1 Worthy is the, Lamb Who was slain Holy, holy is He Sing a new song, to Him who sits on Heaven's mercy seat #Heilig, heilig das Lamm Gottes, #Das geopfert ist. #Lob und Ehre sei dir, dem König, #Auf dem Gnadenthron. Chorus Holy, holy, holy, is the Lord God Almighty Who was and is and is to come With all creation I sing praise to the King of kings You are my everything and I will adore You #Heilig, heilig, heilig, ist der Herr, Gott, allmächtig, #Der war und ist und der da kommt. #Die ganze Schöpfung singt und preist dich, den König. #Du bist mir alles, Herr, und ich will dich ehren. Verse 2 Deine Schönheit ist unbeschreiblich; dein Licht strahlt heller als die Sonne. Lobpreis und Ehre, Weisheit und Macht sei dir allein, nur dir, dem einzig wahren Gott. Verse 3 Wenn dein Name nur erwähnt wird, wirkst du Wunder unter uns. Jesus, in deinem Namen, ist die Kraft zum Leben. Welch Geheimnis öffnet sich....
© 2004 Jennie Lee Riddle, Gateway Create Publishing, Integrity's Praise Music (Admin by Capitol CMGPublishing.com)
CCLI Song No. 4447960