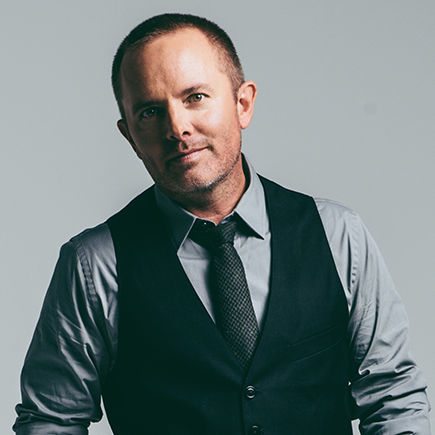 About
Chris Tomlin is a Dove Award winning Christian worship leader and songwriter from Grand Saline, Texas, United States. He is a former staff member at Austin Stone Community Church and is signed to EMI's sixstepsrecords. Tomlin also leads worship at many Passion events. Some of his most well-known songs are "How Great Is Our God," "Jesus Messiah," and "Amazing Grace (My Chains are Gone)."
He was awarded Male Vocalist at the 2006, 2007, and 2008 GMA Dove Awards. He was also named Artist of the Year in 2007 and 2008. Chris Tomlin released his fifth studio album Hello Love on September 2, 2008. Tomlin is one of the members of Compassionart, a charity founded by Martin Smith from Delirious? and Martin's wife Anna.
Early life
Tomlin was born in Grand Saline, Texas in 1972 to Connie and Donna Tomlin. He has two younger brothers, Ryan and Cory. Tomlin received his first guitar from his father, Connie, at the age of eleven after contracting a case of mono. Then, Tomlin wrote his first worship song at age fourteen. He entered college planning to study physical therapy, but he stated that he felt God's calling to something else and did not pursue that career.
In the mid-1990s Tomlin spent time leading worship at the Dawson McAllister Youth Conferences, as well as at various camps around the state of Texas.
Following college, at Tyler Junior College and Texas A&M University Tomlin continued to play and write songs, and in 1997, Louie Giglio asked if he would be interested in working with the Passion Conferences. Tomlin agreed, and he has played a key role ever since. His first nationally released solo project, titled The Noise We Make, was released in 2001, which saw the emergence of songs "Forever," "Be Glorified", and "Kindness", all of which made the top 200 in the CCLI 2005 top 500 worship songs.[2]
Musical career
Before receiving national success, Tomlin released the live EP 545 in 2002, and the studio album Not to Us (2002). His 2004 album Arriving is considered his breakout album since it produced the number 1 hits "Indescribable" (written by Laura Story), "Holy Is the Lord", "How Great Is Our God", and "The Way I Was Made". Two other tracks from the album–"On Our Side" and "Mighty is the Power of the Cross", written with Shawn Craig of Phillips, Craig, and Dean–landed in the 2005 top 500 worship songs according to Christian Copyright Licensing International. Arriving was certified Platinum by the RIAA in 2008.
Just one year after Arriving, Tomlin released his first solo live album, titled Live From Austin Music Hall, and in 2006, he released his fourth studio album, See the Morning. This album has enjoyed great success, for it has been nominated for two Grammy Awards, been certified Gold by the RIAA, and has helped him win 6 Dove Awards in 2007, including a second consecutive "Artist of the Year" win. The three singles off this album have all been top #5 songs on the Billboard Hot Christian Songs Chart, and have all reached the number one position on the Radio & Records's Christian AC Chart.
Although he is a solo artist, Tomlin travels around with a consistent band lineup. He also writes many of his songs with the members of his band. His band, in which he performs vocals, acoustic guitar, and piano, consists of Daniel Carson (electric guitar, backup vocals), Jesse Reeves (bass guitar, backup vocals), Travis Nunn (drums), and Matt Gilder (piano, keys). Tomlin and the band developed while working with the Harvest Ministry at The Woodlands United Methodist Church in The Woodlands, Texas in the late 1990s.
According to Christian Copyright Licensing International's list of the top 25 worship songs in the United States as of August 2007, Tomlin held 5 spots with songs he has either written or co-written with other songwriters: "How Great Is Our God" (#1), "Forever" (#5), "Holy Is the Lord" (#7), "We Fall Down" (#12), and "Indescribable" (#22). On 20 the countdown magazine in 2008 on the top 20 praise and worship songs so far, he held 6 spots: "We Fall Down" (#14), "Forever" (#10), "Holy is the Lord" (#8), "Indescribable" (#6), "Amazing Grace (My Chains Are Gone)" (#3), and "How Great is our God" (#1).[4]
Tomlin has toured with several prominent contemporary Christian music artists, such as opening for Delirious? during his first ever tour, and as a supporting act of Steven Curtis Chapman during his All Things New Tour. Tomlin has also headlined several tours, such as headlining the Chris Tomlin Indescribable Tour, which featured world renowned worship artist Matt Redman, and prominent speaker Louie Giglio,[5] and headlining the See the Morning Tour. From April to October 2007, Tomlin toured with Louie Giglio and Matt Redman on his "How Great Is Our God" tour.[2] In 2008, Tomlin toured with Passion Conferences on its world tour. In early 2009, he headlined the Hello Love tour with Israel Houghton and New Breed.
On December 12, 2006, Tomlin launched an online music website resource called Frequency[2] which Tomlin described as "A place to serve God and his people in worship." This site also features articles by many other acts in the Christian Contemporary Music world, such as Matt Maher and Robbie Seay. Originally the site was a free resource but has since become a paid site. Original users are no longer able to sign on to the site using their original screen names and passwords.
On May 31, 2007, Chris Tomlin returned home to Grand Saline, Texas, to play a free show during their annual Salt Festival.
On June 14, 2007, Tomlin's version of the song "Indescribable" (written by Laura Story) was used as the official wake-up call for Mission Specialist Patrick Forrester on Space Shuttle mission STS-117. In July 2007, Tomlin joined Hillsong to open the conference with his song Amazing Grace (My Chains Are Gone).
On January 7-11 2008, Tomlin participated in the Compassionart International Songwriting retreat, a retreat, which was dedicated to writing songs whose revenues will go to the poorest of the poor. Other prominent Christian songwriters that went included Matt Redman, Martin Smith, Stuart Garrard, and Steven Curtis Chapman.
In May 2008, it was announced that Tomlin and his band would be leaving the church he helped plant with senior pastor Matt Carter in Austin, Texas; The Austin Stone Community Church. He'd be leaving in order to start a new church with Passion Conferences speaker, Louie Giglio in Atlanta, Georgia.
Tomlin helped co-write Kari Jobe's single "I'm Singing" for her self-titled album. The title track on the album "Hello Love" features the Watoto Children's Choir. They sing: "O-kwa-ga-la-kwe, Ku-singa-byoo-na," in their native language, Luganda, which means "His love is the answer."
In May 2009, a video for "I Will Rise" was released on iTunes. The video was recorded during the Hello Love tour. A music video for the song "Love" was released on July 28, 2009.
In June 2009, Chris and his band began recording a new Christmas album, called Glory in the Highest: Christmas Songs of Worship. It was released on October 6, 2009. It includes 3 original Christmas songs. The album features duets with Matt Redman, Christy Nockels, and Audrey Assad.
On August 16 2009, Chris played at the Harvest Crusade at Anaheim Angels Stadium.
Source:
Chris Tomlin. (2009, November 19). In Wikipedia, The Free Encyclopedia. Retrieved 05:29, November 20, 2009, from http://en.wikipedia.org/w/index.php?title=Chris_Tomlin&oldid=326718795
[include key="creative-commons"]