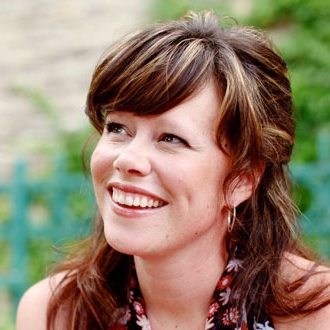 About
"This one is the songwriter's album for sure." Almost as an afterthought, Sara Groves concludes an in-depth conversation about her new recording, Fireflies & Songs, with this innocuous-remark-turned-spit-taker. Imagine Hillsong saying, "This one is our worship album," or U2, "This one is our anthem album."

After all, this is Sara Groves we're talking about. Her renown as a potent singer/songwriter merely begins with her avid fanbase. (Granted, one which gave her previous INO Records release, 2007's Tell Me What You Know, an extended debut as the No. 1 album on iTunes' "Christian & Gospel" chart.) Simply put, when it comes to songwriting, Sara influences the influencers. Her most vocal admirers range from pioneers of Christian worldview music, including Randy Stonehill, Michael Card and Charlie Peacock, to her peers today, Natalie Grant, Jars of Clay, Nichole Nordeman, Point of Grace and Bethany Dillon, among them.

Add to that the fact that Sara has always shied away from hype and spin doctoring, and you have a bonafide headline on your hands. Her "songwriter's album" indeed. As the record's producer, the aforementioned Peacock, attests, "That's what I loved about working on Fireflies & Songs. I got a close-up view of the songwriter at the top of her game. It's so inspiring to work on music that is so focused and alive."

Well put. At the same time, it should be pointed out that Sara's parting descriptor is a testament to how the album was approached and recorded rather than a proclamation of Fireflies' superiority over her other widely-esteemed work. While her albums have tended to explore the stylistically wide terrain bordered by the likes of Patty Griffin and Peter Gabriel, Sara's new offering is 100 percent thoughtful-folk-songwriter fare. "I listen non-stop to Mindy Smith, Patty Griffin, Emmylou Harris and Pierce Pettis," she says. "I love that music."

With Fireflies, more than any other album, it shows. "This recording is more me in that sense," says Sara. "Musically, it's what I would do naturally. This entire album was written at the piano when, in the past, I've made an effort to write in different environments. Also, I only had one co-write this time around." And the production? "When I heard Jon Foreman's [Fall, Winter, Spring and Summer] EPs, which Charlie executive produced, I called Charlie and said, 'I want to make a record like these. They're so emotive, and they feel like they're so true to him.'"

Peacock explained how they had approached Foreman's solo work in the beginning. The Switchfoot front man would start by sending Peacock demos. The producer would add tasteful instrumentation to Foreman's original recordings and then send each back to Foreman who would continue envisioning the arrangement. Eventually they met in Nashville for more experimenting. In much the same way, Sara and her touring band--comprised of guitarist Ben Gowell, bassist Aaron Fabbrini and drummer Zach Miller--would record a demo for Peacock to use as a given song's foundation. While he incorporated his own ideas and sometimes had Sara or her band re-record certain instruments, Peacock often kept the demo's original recordings in the mix. "That way, the songs retained that sort of plug-and-play feeling," says Sara, who played all of Fireflies' piano parts. "We took that approach with several tracks on the album, trying to maintain the integrity of the demo if it felt good."

And Sara's lyrics? More than any other impressive thing, they define her craft. As with her two previous INO recordings, Add to the Beauty and Tell Me What You Know, Sara thought she would focus on a theme and write poetic commentary throughout the new album. However, early in the pre-production process, Jeff Moseley, the president of her record label, threw Sara a redemptive curveball. "It's been a long time since we've heard from you," he said. "I want to check in with you. What's happening now in your life? What is life like for you as a wife, mother, daughter and friend?"

Her perspective will no doubt come as a bit of a shock to even her most attentive fans. After all, Sara's songwriting has long been ubiquitously described as extremely "vulnerable," "honest," "transparent," "intimate," and "real." And while each is completely true, with Fireflies & Songs, Sara--in the words of guitarist Nigel Tufnel--"goes up to 11."

"As I started writing, I revisited some things that have taken place over the last 15 years of marriage," says Sara. "It wasn't all exactly current, but it was stuff that I hadn't written about yet, and it was good to do so." Soon she had her first conversations with Peacock about the album and, at one point, asked if he had any early direction for her. "I want you to enjoy God and the gift of songwriting," he replied.

"I just burst into tears," says Sara. "I don't think anyone has ever told me to do that. And that's what I did. I cried like a baby as every single song came out. And as they did, I thought, I'm more grateful today that I get to do this than ever before." Even now, as she recalls the experience, her eyes well with emotion.

Even the unsuspecting listener will relate as the songs on this album unfold. It doesn't take long to realize that a profoundly personal look at who Sara is and where she is in life includes a vivid invitation into her most important relationships. As early as Fireflies' second song, "From This One Place," you'll pray with Sara as the melancholy beauty of her voice and ivory keys call out to God in response to tangible and recurring anxiety. The flowing, moody "Eyes Wide Open," meanwhile, is both confessional and declarative as Sara begins, "I've got layers of lies that I don't even know about yet," and concludes, "When the lights come up on this town/When the thing goes down/... I wanna be telling the truth." And her marriage? The gently pleading "It's Me" is at once stark and reassuring as it paints a personal picture of the often polar push and pull couples experience as they pursue genuine relationship.

When she wrote her first matrimonial breakthrough, "Roll To The Middle," six years ago, Sara had no idea how such songs would resonate. "Now Troy and I have a running joke about it," she says and then, with a laugh, offers the slogan, "Helping you fight better since 2003." Indeed, Fireflies & Songs poignantly expands on the Groves' determined efforts to nurture other marriages by being open about their own shortcomings and lessons learned. Perhaps the most intimately vulnerable song of all is the stealthily titled "Different Kinds of Happy." As Sara sings, "I've got to ask you something/But please don't be afraid/There's a promise here that's heavier/Than your answer might weigh," she foreshadows redemptive truth amidst emotional danger.

Sara's poetic takes on the relational turn to her closest girlfriends in the melodically soothing tribute, "Twice As Good," which she co-wrote with Christa Wells (Natalie Grant's "Held"). And when Sara reflects on her history in the nostalgic "This House," Psalm 84:11 takes center stage as the singer assures her daughter Ruby--and us--that "the Lord withholds no good thing." With a prominent mandolin and her Opry-ready vocal cadence, Sara turns in "Setting Up the Pins" as her most prominent foray into bluegrass. In closing, many will insist she saves the best for last as the worshipful "Joy Is In Our Hearts," written to encourage believers serving on the front lines of social justice, is an enduring benefit to us all.

While Sara is the first to confirm Fireflies & Songs is the "most her" musically, it's also the singer's most candid recording. "I tried not to teach on this album," she explains. "And I'm a natural-born teacher. I turn everything into a lesson--for myself, for the people around me. That's how I process my life, that's how I learn. But I wanted Fireflies & Songs to feel more like friends and I are talking at Don Pablo's over nachos and cheese. I'm trying to be more confessional, and I hope these songs encourage other people to live confessionally."