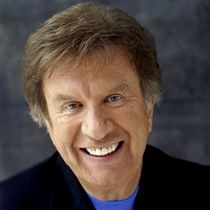 About
An avid fan of gospel quartets throughout his childhood, Bill founded his first group, The Bill Gaither Trio, in 1956, while he was a college student. He began teaching English in 1959 because his musical aspirations couldn't support him full-time... yet.
In 1962, Bill did one of the best things he has ever done. He married Gloria Sickal, who became the best writing partner Bill could have found anywhere. The couple spent the first five years of their married life juggling full-time teaching jobs, writing, singing, recording and publishing until music became their full-time career in 1967.

The collaborations of Bill and Gloria have resulted in more than 700 popular gospel songs, including the hymnal standard "Because He Lives," "The King Is Coming," "Something Beautiful," "He Touched Me," "It Is Finished," "There's Something About That Name," "Let's Just Praise The Lord," and "Loving God, Loving Each Other." Bill and Gloria have collectively won eight Grammy Awards and more than a dozen nominations, and they have received more than two dozen Dove Awards from The Gospel Music Association, earning the title of Gospel Music Association's "Songwriter of the Year" eight times.

In 1996 Bill and Gloria Gaither were the first musical artists to be inducted into the Christian Booksellers Association's Hall of Honor. Only three people have been previously honored with this distinction: Reverend Billy Graham, Dr. Kenneth Taylor (author of The Living Bible) and Dr. Richard Halverson (former U. S. Senate Chaplain). Their album, Alleluia: A Praise Gathering for Believers was the first inspirational album ever to achieve gold status by the Recording Industry Association of America (R.I.A.A.).

The Indianapolis Star named "He Touched Me" among the Top 10 Songs of the Century written by an Indiana Hoosier. Clearly, many others agree because in end-of-the-millennium honors, Bill and Gloria received the surprise of their lives when the American Society of Composers, Authors and Publishers (ASCAP) named them Songwriters of the Century, based on the impact their work has made on American culture in the 20th century. His Spring House Music label was named the top video company of 2000 by Billboard Magazine, placing 20 titles on the chart that year, with Gaither-produced projects spending more than a dozen weeks at the top of the music video chart. Bill and Gloria are members of the Gospel Music Hall of Fame, as well as the Southern Gospel Music Hall of Fame, and they were honored by the Indiana Historical Society in 2006 with the Living Legend Award. In 2008 they were inducted into the Indiana Broadcaster's Hall of Fame for their contributions to television through the Homecoming video series, a rare privilege shared by few artists.

In the early '80s Bill and a few of his friends were harmonizing around the piano and were pleased enough with their sound to try it out on an audience at the next Bill Gaither Trio concert. After the hearing enthusiastic response from the audience at that concert, the Gaither Vocal Band was born. The group's tight four-part harmonies, commanding presence and, of course, great songs have forever raised the bar for gospel groups who would follow them. The Vocal Band has touched audiences all over the world for more than twenty-five years and has never been better than they are today. In 2006, as a result of the Gaither Vocal Band's harmonic sound and musical excellence on their A Cappella album, Bill was presented with an honorary membership to the Barbershop Harmony Society. There have been numerous opportunities for the GVB to sing at Billy Graham Crusades and group members past and present often name those crusades among the highlights of their lives.

Throughout his years in the music industry, Bill has had many opportunities to meet artists with a quality he believed audiences needed to hear, so he has eagerly shared his stage with countless fledgling artists who, as a result, became defining influences in their field, including Don Francisco, Mark Lowry, Sandi Patty, Steve Green, Michael English, Cynthia Clawson and a host of others.

From a little log cabin studio to world-renowned venues such as Carnegie Hall, The Kennedy Center, The Sydney Opera House, and a host of others around the globe, the Homecoming series has taken on a life of its own. The award-winning series now airs weekly on television networks all over North America and Europe, and the Homecoming concert tour celebrates more than 10 years of live events that bring gospel music to major arenas across North America. Now more than 70 years of age, Bill is still going strong touring with the Gaither Vocal Band and the Homecoming artists, releasing new Homecoming video titles each year, and he still has much to say to the loyal multi-generational following of listeners who have latched onto the down-to-earth yet truth-filled songs that have become his trademark.

In 1991, Bill was in his mid-fifties and grateful to have had the opportunity to do what he loved, full-time, for so many years. He gathered the Vocal Band together with a few of his gospel music heroes to record a song entitled, "Where Could I Go?" for what he thought would be the Gaither Vocal Band's final album. Something very special happened that day... and someone captured it on a home video camera. That rough recording marked the birth of the Homecoming video series, which brought together gospel music pioneers with fresh new artists to celebrate gospel music's rich legacy. The series has since sold more than 18 million copies and has grown to more than 100 titles strong. By spring of 2006, ninety-nine of the Gaither Homecoming videos had achieved precious metal status by the R.I.A.A., with four certified multi-platinum, 45 certified platinum and 50 certified gold.

Bill's first-ever solo recording was released in 2005 when he finally felt there were some things he wanted to say himself, from the perspective of someone who has lived a little and learned a lot. Another avenue through which Bill shares his unique perspective on life and music is through his autobiographical book published by Warner Faith called, It's More Than the Music.

In 2009, the Gaither Music Group released The Gaither Vocal Band Reunion, two DVD volumes featuring past and present members of the Gaither Vocal Band singing more a quarter-century of the group's best-loved songs. The DVDs immediately became a chart-busting success, debuting at #1 and #2 on Billboard Magazine's Music Video chart and remaining at there for three consecutive weeks. Both the DVDs and the accompanying audio CDs dominated Christian Music charts, Southern Gospel charts and became an instant fan favorite.

During the same month of the unprecedented success of the GVB Reunion DVDs, personnel changes gave Bill the opportunity to completely recreate the group. He formed a five-man team for the first time in the group's history and brought back fan favorites from the Vocal Band's rich history of talent. Today, the Gaither Vocal Band is: Bill Gaither, Michael English, Wes Hampton, Mark Lowry and David Phelps.

After decades of unprecedented musical successes, Bill and Gloria still operate their business from Bill's hometown of Alexandria, Indiana, and they dwell in the same home in which they raised their family. They live a lifestyle focused on investing their resources into eternal things.

"Our calling is not just making music... but communicating the reality of Christ. That might mean birthing a song about Him or simply offering a cup of cold water to someone who needs it. Gloria and I have never claimed to have God figured out, but we do know that if He could use two imperfect people like us to communicate His Truth to the world, He can use everyone sitting in the audience, working on our staff or singing with us. If we have done anything right over the years, I hope we have built bridges where people could connect with God and with each other. That is what started us writing and what will keep us going for the rest of our lives."