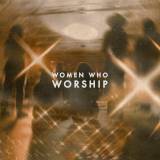 It Is Written Chords PDF (Women Who Worship / Lindy Cofer / Eniola Abioye)
It Is Written Chords PDF (Women Who Worship / Lindy Cofer / Eniola Abioye)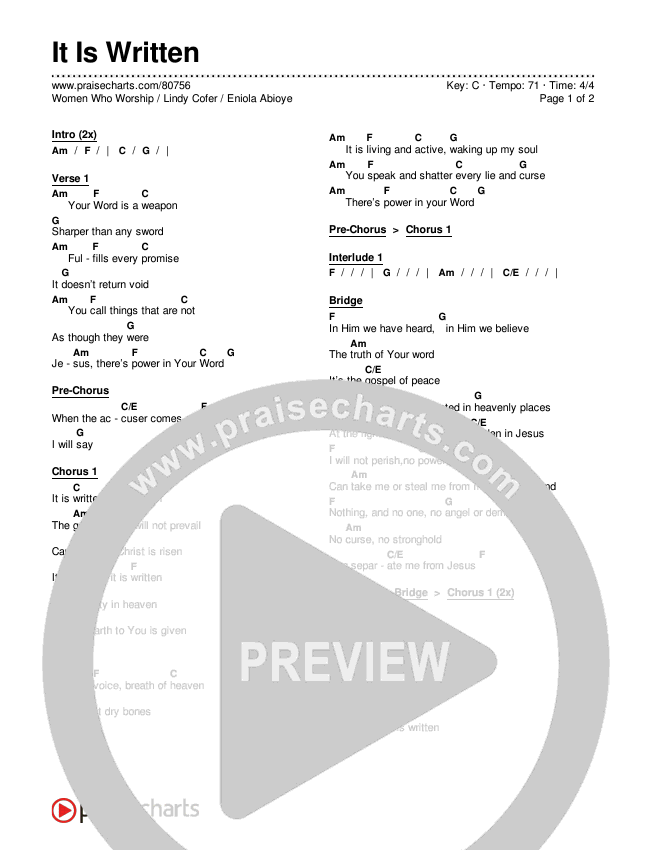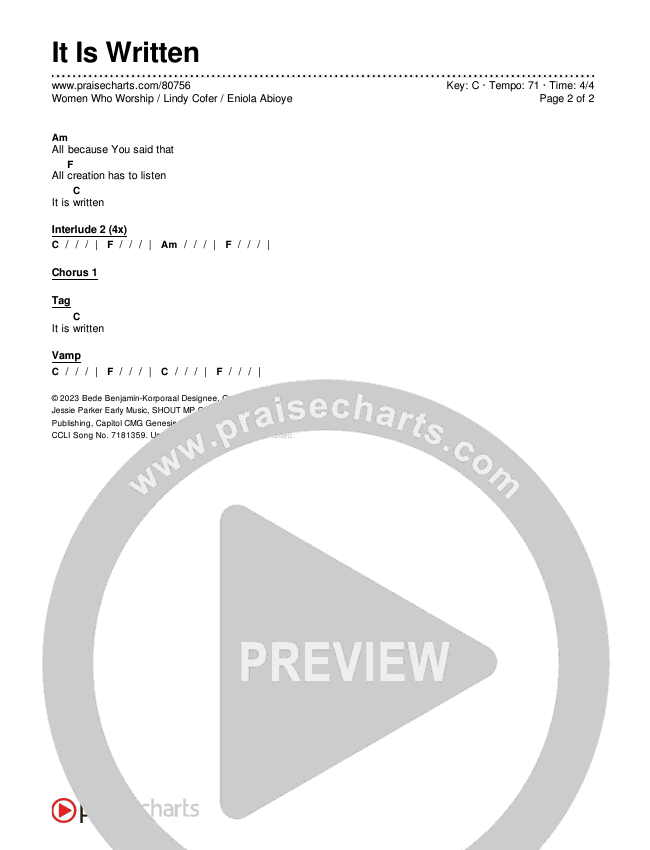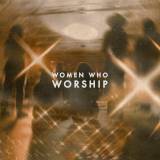 It Is Written
Women Who Worship / Lindy Cofer / Eniola Abioye
Chords & Lyrics (Editable) Details
Download the PDF Chord Charts for It Is Written by Women Who Worship / Lindy Cofer / Eniola Abioye, from the album Women Who Worship.
| | |
| --- | --- |
| SongID | 80756 |
| Language | English |
| Album | Women Who Worship |
| Artists | Women Who Worship, Lindy Cofer, Eniola Abioye |
| Authors | Bede Benjamin-Korporaal, Jessie Early, Lindy Cofer |
| Publishers | Capitol CMG |
| CCLI Song No. | 7181359 |
| Tempo | Med Slow |
| Instruments | Guitar, Ukelele, Piano |
| File Type | PDF |
| Pages | |
| Original Key | C |
| Available Keys | A, Ab, B, Bb, C, C#, D, Db, E, Eb, F, F#, G, G#, Gb, Numbers, Numerals |
| Meter | 4/4 |
| Theme | Faith, Jesus, Power, Strength, Believe |
Lyrics
Verse 1 Your Word is a weapon, sharper than any sword Fulfills every promise, it doesn't return void You call things that are not as though they were Jesus, there's power in Your Word Pre-Chorus When the accuser comes against me, I will say Chorus 1 It is written, it is written The gates of hell will not prevail cause Jesus Christ is risen It is written, it is written All authority in heaven and on earth to You is given Verse 2 Your voice, breath of heaven calling out dry bones It is living and active, waking up my soul You speak and shatter every lie and curse There's power in your Word Bridge In Him we have heard, in Him we believe The truth of Your word, it's the gospel of peace I am raised up, I am seated in heavenly places At the right hand of God I am hidden in Jesus I will not perish,no power, no man Can take me or steal me from my Father's hand Nothing, and no one, no angel or demon No curse, no stronghold, can separate me from Jesus Chorus 2 It is written, it is written I will live, I will not die, I'll live my life to testify It is written, it is written All because You said that all creation has to listen It is written Tag It is written...
© 2023 Bede Benjamin-Korporaal Designee, Capitol CMG Paragon, Jessie Parker Early Music, SHOUT MP Carrington, Lindy Cofer Publishing, Capitol CMG Genesis (Admin. by Capitol CMG Publishing)
CCLI Song No. 7181359