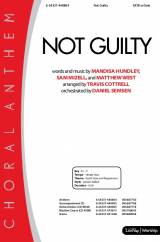 Not Guilty (Choral Anthem SATB) Orchestration (Lifeway Choral / Arr. Travis Cottrell)
Not Guilty (Choral Anthem SATB) Orchestration (Lifeway Choral / Arr. Travis Cottrell)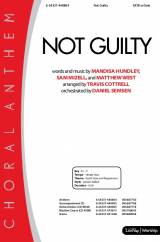 Not Guilty (Choral Anthem SATB)
Lifeway Choral / Arr. Travis Cottrell
Orchestration (No Vocals) Details
Download the Orchestration for Not Guilty (Choral Anthem SATB) by Lifeway Choral / Arr. Travis Cottrell, from the album Easter Choral Anthems. This song was arranged by Travis Cottrell in the key of Eb.
| | |
| --- | --- |
| SongID | 80417 |
| Language | English |
| Album | Easter Choral Anthems |
| Artists | Lifeway Choral, Arr. Travis Cottrell |
| Authors | Matthew West, Sam Mizell, Mandisa Hundley |
| Arrangers | Travis Cottrell |
| Publishers | Capitol CMG, Music Services, Word Music |
| CCLI Song No. | 5324154 |
| Instruments | Piano, Keyboard, Guitars, Drums, Trumpet, Trombone, Tuba, French Horn, Violin, Viola, Cello, Keybaord Synth, Flute/Obo, Clarinet, Alto Sax, Tenor Sax |
| File Type | PDF |
| Pages | |
| Available Keys | Eb |
| Meter | 4/4 |
| Themes | Christian Life, Declaration, Easter, Eternal Life, Salvation |
Lyrics
Pre-Chorus My fate is in the Judge's hands But then He turns to me and says Chorus I know you I love you I gave My life to save you Love paid the price for mercy My verdict not guilty Verse 1 I stand accused There's a list a mile long Of all my sins Of everything that I've done wrong I'm so ashamed There's nowhere left for me to hide This is the day I must answer for my life Verse 2 How can it be I can't begin to comprehend What kind of grace Would take the place for all my sin I stand in awe Now that I have been set free And the tears well up as I look at the cross 'Cause it should have been me Pre-Chorus My fate was in the nail scarred hands He stretched them out for me and said Bridge I'm falling on my knees to thank You With everything I am I'll praise You So grateful for the words I heard You say...
© 2009, 2014 Heavenly Melodisa Music, Meaux Hits (admin. at CapitolCMGPublishing.com), Simple Tense Songs, Wyzell Music (admin. by Music Services), Songs for Lulu, Word Music (admin. by Word Music)
CCLI Song No. 5324154