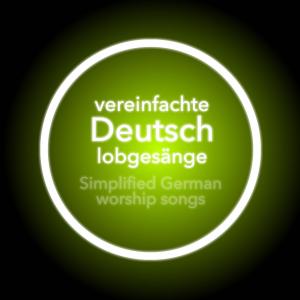 Mann Der Schmerzen (Simplified) Chords
Mann Der Schmerzen (Simplified) Chords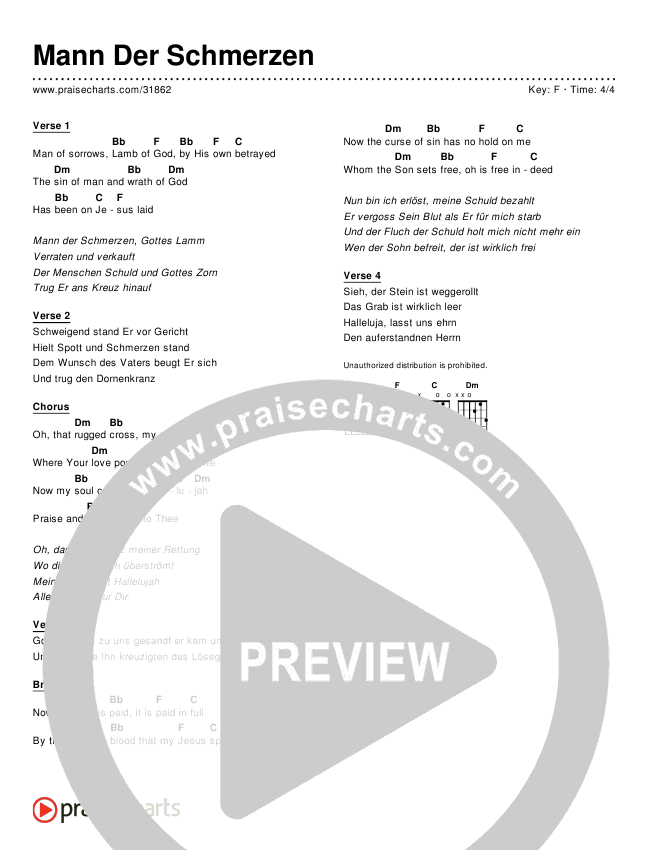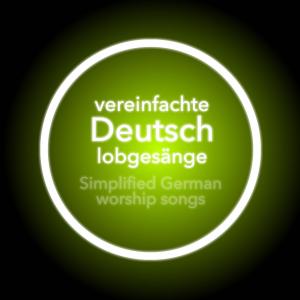 Mann Der Schmerzen (Simplified)
Chords & Lyrics (Editable) Details
Download the Chord Charts for Mann Der Schmerzen (Simplified), from the album Vereinfachte Deutsch Lobgesänge.
| | |
| --- | --- |
| SongID | 31862 |
| Language | German |
| Album | Vereinfachte Deutsch Lobgesänge |
| Authors | Matt Crocker, Brooke Ligertwood |
| Publishers | Hillsong Music, Capitol Christian Music |
| CCLI Song No. | 6476063 |
| Instruments | Guitar, Ukelele, Piano |
| File Type | PDF |
| Pages | 17 |
| Original Key | F |
| Available Keys | A, Ab, B, Bb, C, C#, D, Db, E, Eb, F, F#, G, G#, Gb, Numbers, Numerals |
| Meter | |
| Themes | Soul, Love, Salvation, Cross, Lent, Grave, Hallelujah, Blood, Redemption, Praise, Jesus, Sin, Lamb, Easter, Good Friday, Resurrection |
Lyrics
Verse 1 Man of sorrows, Lamb of God, by His own betrayed The sin of man and wrath of God, has been on Jesus laid #Mann der Schmerzen, Gottes Lamm, verraten und verkauft #Der Menschen Schuld und Gottes Zorn, trug Er ans Kreuz hinauf Verse 2 Schweigend stand Er vor Gericht, hielt Spott und Schmerzen stand Dem Wunsch des Vaters beugt Er sich, und trug den Dornenkranz Chorus Oh, that rugged cross, my salvation Where Your love poured out over me Now my soul cries out, hallelujah Praise and honour unto Thee #Oh, das raue Kreuz meiner Rettung #Wo die Liebe mich überströmt #Meine Seele ruft Hallelujah #Alle Ehre sei nur Dir Verse 3 Gottes Sohn, zu uns gesandt er kam uns zu befrein Um ihnen, die Ihn kreuzigten das Lösegeld zu sein Bridge Now my debt is paid, it is paid in full By the precious blood that my Jesus spilled Now the curse of sin has no hold on me Whom the Son sets free, oh is free indeed #Nun bin ich erlöst, meine Schuld bezahlt #Er vergoss Sein Blut als Er für mich starb #Und der Fluch der Schuld holt mich nicht mehr ein #Wen der Sohn befreit, der ist wirklich frei Verse 4 Sieh, der Stein ist weggerollt, das Grab ist wirklich leer Halleluja, lasst uns ehrn, den auferstandnen Herrn...
© 2012 Hillsong Music Publishing (Admin. by Capitol Christian Music Publishing)
CCLI Song No. 6476063
Other Arrangements of This Song