Praise & Worship Orchestrations
Orchestra Sheet Music For Worship
PraiseCharts' core product has a huge number of orchestrations that help support your worship service. Whether you have a small brass section, a string ensemble, or a full orchestra, our orchestrations will enable your group to participate, and play with confidence. Arranged by veteran orchestrators, the stylings and arrangement of the charts allow your music team to bring a depth of musicality without having to be professional musicians.
Worship Band Series
The Worship Band Series features a long list of popular praise and worship songs arranged for praise band or church orchestra. The series was developed by PraiseCharts veteran arranger, Dan Galbraith. These arrangements are geared towards a contemporary "R&B horns" praise band sound while at the same time being scale-able up to a medium-sized church orchestra.

Premium Orchestrations
Ready to take your worship leading choir and orchestra to another level? Arranged by Cliff Duren, this series of Premium Orchestrations with refined vocals and expanded instrument parts is sure to bring fresh excitement to your musicians. These premium arrangements are mapped to the original recording of our most popular modern worship songs with orchestral parts written with lines and stylings appropriate for each instrument.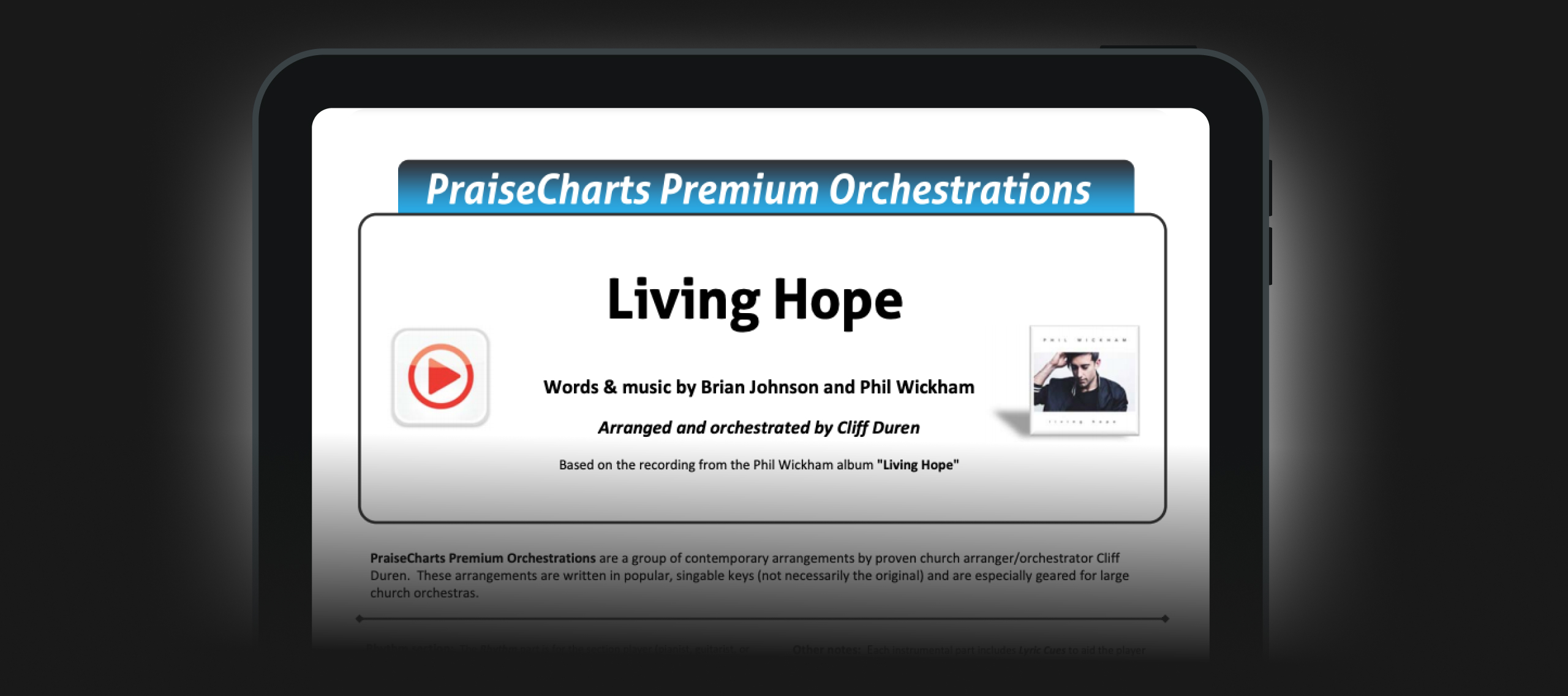 Choral Orchestrations
The PC Choral Anthem Series brings you stand-alone arrangements perfect for your performing and/or worship choir. Arranged by Luke Gambill, orchestrated by Dan Galbraith, these anthems give your choir a well crafted four-part choral arrangement that is still based off the original artist recordings you have come to love.

Light Orchestrations
You have come to trust and depend on orchestrations from PraiseCharts to give you the sound you want, and the parts your musicians require. But sometimes you just don't need a full orchestration - sometimes, less is more. With our Light Orchestrations, you will find the vocal products along with the primary instrument group to support that particular song. If the song is carried by strings, then it will have the string parts; if brass is dominant, then that is what we have included. You can always preview the chart to see exactly what is included, or look at the 'included' dropdown at the top of the chart preview.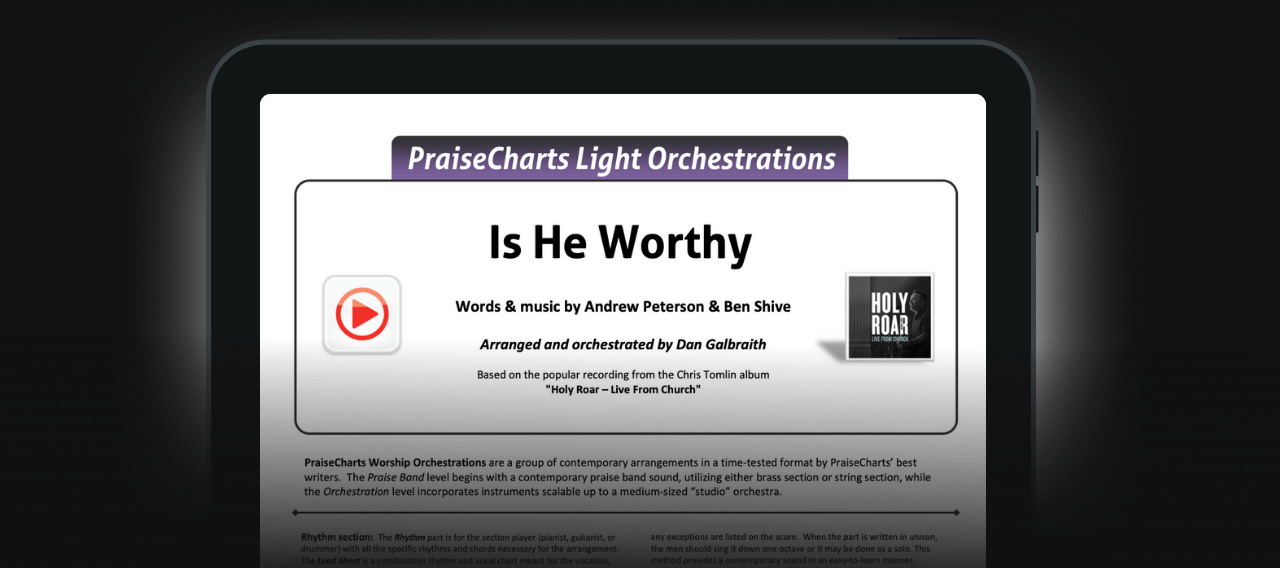 Finale Files
For more than 20 years, PraiseCharts arrangers have used Finale as their preferred software to produce all the sheet music arrangements we have in our catalog. When you purchase our PraiseCharts-created orchestrations, we include the Finale file at no additional cost, as an added value. Now you have the freedom to tweak the arrangement, change the key, add a part, remove a part, change the font, or change the layout. Finale files are also included in the Piano/Vocal Packs.